AGRA – THE TAJ MAHAL
Both of us were so tired of people having said to us, "you went all the way to India and you're didn't see the Taj Mahal?"  So this time we planned our whole trip around the visit to the Taj and today was the day!
You know all those pictures of the exquisite structure?  It is even more beautiful than we imagined.  And add to that the romantic story of the Shahjahan and his great love for his wife, Mumtaz Mahal, who bore him 14 children, who was highly intelligent and valued for her wisdom and beautiful.  She died in childbirth, in the battlefield with her husband and he pledged to build this monument as her mausoleum.
It took 2 years of planning and 22 years of construction to build.  They brought the marble from 340 kilometers away on camel carts.  The extremely hard marble was carved with chisels and inlaid with semi-precious stones from around the world, glued in place with a secret formula.  Almost 400 years later, the stones are still perfectly in place.
May our pictures inspire you to come to India!
In order to enter the Taj itself, you slip these on over your shoes, or go barefoot!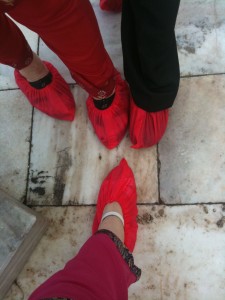 A FEW MORE OBSERVATIONS ABOUT THE INDIAN ROADS, shot in Agra
Meet Raj, our trusty driver!