HOME!
First, for those of you in the Los Angeles Area, I'd love to see you in person!
I'm having an Open House, Birthday Celebration and Trip Sharing Evening on Saturday night, starting at  7 pm.  I would love to have you join me!  I'm serving Indian Food and I'll share the video's from the 26/11 event, as well as stories of my travels.
Please RSVP if you are coming and I'll give you parking instructions (Park at the Mall and walk over).  I do need to know if you are coming, so that I can order enough food!
Looking forward to seeing many of you!
NOW ON TO THE STORY OF THE LAST DAYS IN MUMBAI
The Oberoi Hotel, where we stayed in 2008, was ruined in the terrorist attacks.  They took 18 months and totally renovated the hotel.  They changed the rooms to suites and re-did the lobby and the restaurants.  We had loved everything about the hotel in 2008, especially the Tiffin restaurant where we had eaten most of our meals.  It was home.  And Naomi and Alan Scherr were killed there and four others were wounded, 3 severely.  All have since recovered, although wounds are never fully recovered.  They've changed the restaurant name to the Fenix, but the food and the staff are still fantastic.  We ate many meals here this time!  We also visit the escape route of the 4 wounded with Linda Ragsdale, who was shot in the back, and we went to the 15th floor, where Lisa and I had been trapped in our room for 40+ hours and saw the inside of one of the re-done rooms.
You might be interested in the security situation now!  It was tight everywhere in India.  Cars are screened and inspected before coming in the gates of the 5 star hotels.  Then your belongings are screened, you are screened and then patted down.  Think of going into the airport.  EVERY TIME you come in, even if you left 5 minutes earlier.  It made us feel good.  And at the airports, twice as much.
We were here as the guests of the Oberoi.  They are so honorable.  They kept all 400 employees on staff during the renovations, at full pay.  Some worked, some didn't, but full pay none the less.
And they had refunded our fees from 2008.  So, a positive side benefit of the terrorist attacks for me was 2 mostly free visits to India!
The employees we met were so warm and friendly and when they found out we had been present during the attacks, they shared their stories with us too.  It was very therapeutic in all ways.
We were housed at the Trident, which is the adjoining hotel.  Both are part of the Oberoi Group and both were attacked in 2008.  (We also stayed in Tridents in Agra and Jaipur.)  They put us all on the same floor.  It felt like a family reunion.  We were back and forth between each others rooms.
Every evening we went to Master Charles's room and hung out, laughing and sharing and telling stories from 9 pm til midnight or later. Having that intimate personal time, in addition to meditating together made the trip really special.  By the way, we did share our terror experiences with each other and some of us had energetic responses to being present again in the hotel but no one had any major flashbacks or PTSD.  It was quite the opposite, we felt so much love.  It was a blessing and very healing.
Twelve of the survivors were here and Joe and John Slicker brought their whole family –  a total of 9 Slickers, one more wonderful than the next!  And Helen Connolly brought her 25 year old daughter, who was a terrific help in producing the event.  So we were 2 Australians, 2 Canadian's and 16 Americans!
Back to the Tiffin/Fenix, I had discovered dosas here.  Dosas are an ultrathin bread-pancake, with a masala flavored potato and onion mixture.  Lisa and I shared dosas and masala eggs every morning in 2008.  I ordered dosas everywhere we went in India.  They come in all sizes and thicknesses and shapes.  But the BEST are at the Tiffin/Fenix.
Here is my breakfast plate.  And the centerpieces here are a rectangular glass vase, with rocks at the bottom and 2 red orchid sprays and a guppy swimming around happily!  Orchids are everywhere!
The Tiffin/Fenix and the Trident Jaipur tied for best food on the trip.  For Lisa and I the two best things about India are the food and the people!  For every non-buffet meal we picked two items from the menu and shared them.  I had hoped to lose weight on the trip.  No such luck!  But I didn't gain any!  That was a miracle!  The food is very healthy here.  We had mango yogurt for breakfast, mango lassi drinks in the afternoon, pomfret fillets (fish) for dinner.  We ate Saag Paneer (spinach and cheese) many times.  And every sauce under the Indian sun, with vegetables we didn't know existed!
THE SEA LINK
Mumbai is a city of 20 MILLION people, and growing every day.  The traffic is intense and there is nowhere to build a freeway!  It feels like many Manhattans, everywhere you look there are high rise apartment and office buildings and many more under construction.  Billboards everywhere promote new housing developments, and Cadbury Chocolate and MTV!
So one solution was the Sea Link, a bridge and highway over the Indian Ocean.  It cuts the trip to the airport (and to Bandra and Malad (where my Ayurvedic health clinic is) by 30 minutes.  And it is spectacular.  In the first photo you see the Sea Link going straight out over the water at its' start and you also see two platforms for building an extension of the Sea Link.  Next you see the length of the bridge, going parallel to the shore with those gorgeous towers at the end.  In the final picture you see the bridge towers up close as we drive thru them.  It is a spectacular ride and hard to photograph, as there is no pulling over!  It took 8 years to build it!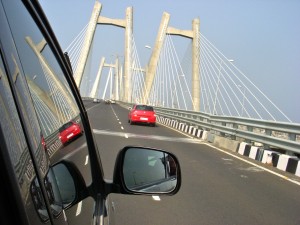 SHOPPING – A MUMBAI TRADITION!
Meet Sabine, friend to our entire group. She mixes scents to make you your own individual perfume from her shop in the Oberoi Mall.  She also created the scent that they have in the Oberoi Hotel chain. There are scent generators everywhere in the hotels.  I bought it and have it in my bedroom – a rose-jasmine scent.  In 2008 everyone hung out in her shop.  The same was true this year.  This photo was taken in Linda Ragsdale's room.  Linda, an artist and children's book author/illustrater, had promised Naomi that they would draw dragons tomorrow the day that Naomi died.  So in her memory, Linda created the Peace Dragon Project.  Linda travels to schools in the US and in India now, and everywhere else is coming, does art projects making hearts with messages of peace and then gluing them together to make peace dragons.  She and her Indian students presented a gorgeous double dragon 3-D art piece to the manager of the Oberoi to be on permanent display there at our 26/11 Memorial Event (go back one blog to see the picture of it at the end of the page).  Do check out her web site.  Her project is vast and inspiring.  She is a perpetual motion machine!  One piece of her project is a scent for purchase.  So, of course, she is working with Sabine, pictured above.  I joined them in Linda's room and checked out the seven scents Sabine has developed.  One, SOUL SEARCH, spoke to me loudly and I bought a large bottle of it!
This is just a glimpse of our shopping.  There is a Mall in the hotel and we went and visited our merchant friends there. Harry, who came and meditated with us in 2008 and fell in love with MC, also shopped for us!  Then came to the room and delivered our merchandise!  I got a wonderful Om prayer shawl, an amethyst crystal energy tool and a canvas suitcase to hold my purchases for the flight home!  I think it weighed 40 lbs!  Of course we went to FabIndia where they have inexpensive India clothes and shopped til we dropped.  We also shopped silk fabrics in Jaipur, where I had 5 outfits made and Lisa had 3 – all completed in 18 hours!
Our last shopping jaunt was to Crawford Market, one city block square, where they have every animal, fruit, vegetable and almost anything else you can imagine for sale from little booths.  We strolled thru it to the spice store.  Lisa was getting saffron for her brother.  After smelling so many wonderful spices I ended up with 5 different masala and fenugreek packages.  I make an Indian stew and already have an Indian spice container with 7 different spices.  I'm off today to get another container!  I plan to cook Indian-style for myself.  I have enough spices to do it daily for a long time!  And teas.  I bought 3 bags of India tea in Delhi.  One is mango flavored and delicious.  We had a tea tasting session at the store in Delhi.  Shopping is so fun in India.
SHAMIM and the end of our trip
Our last day in India Shamim drove us to Ayushakti Ayurvedic Clinic (where I went 3 times in 2008) for an hour plus of fantastic treatments and then off to a special farewell dinner for the 3 of us at the Leela Hotel at the airport and then to the airport to fly home.
Shamim was our driver in 2008 and my post terrorist project was to help Shamim get his own car and business.  With help from many of us, we did that.  Unfortunately the economy in Mumbai is even worse than here and he has need a lot more help to survive.  Having all of us there to hire him helped tremendously.  He was able to earn the money for the car insurance for the coming year.  But he is still struggling and needs more help.  Donations are still needed and he and I would really appreciate any help you can give.  Send me an email and I'll handle your tax deductible donations.
Shamim met our plane into Mumbai, hugging us and saying to me, here is your car!  Our car, I corrected him!  Over the next 7 days we went many places together, talking the whole time.  We learned about his life and finances and about his girlfriend.  Unfortunately, her father died suddenly and unexpectedly on 11.26.10 so we did not get to meet her.
Shamim and I both cried when we separated at the airport.  For sure, I'll be coming back.  Mumbai feels like home to me.  I really didn't want to leave (first time that has ever happened on a trip).
It won't be next year though.  I'm going to Valladolid Spain in November 2011 for the Global MicroCredit Summit Meeting, produced by Sam Daley-Harris, my long time friend and inspiration.  So maybe in 2012.
A QUICK THANK YOU! TO EVERYONE FOR READING THE BLOG
Writing the blog started out as a way of assuring my scared family and friends that I was okay, safe and happy in India.  It transformed into a deep introspection and sharing of my experience with a far larger group.  I do not know who has read what I (and Lisa) have written (although some have written me back).  We really enjoyed doing it.
HAPPY HOLIDAYS!
Until we connect again, much love.  May our our lives improve, our spiritual connection grow deeper and may we live in a world of peace and love.
Peggi