Peggi & Jimmy Get Married!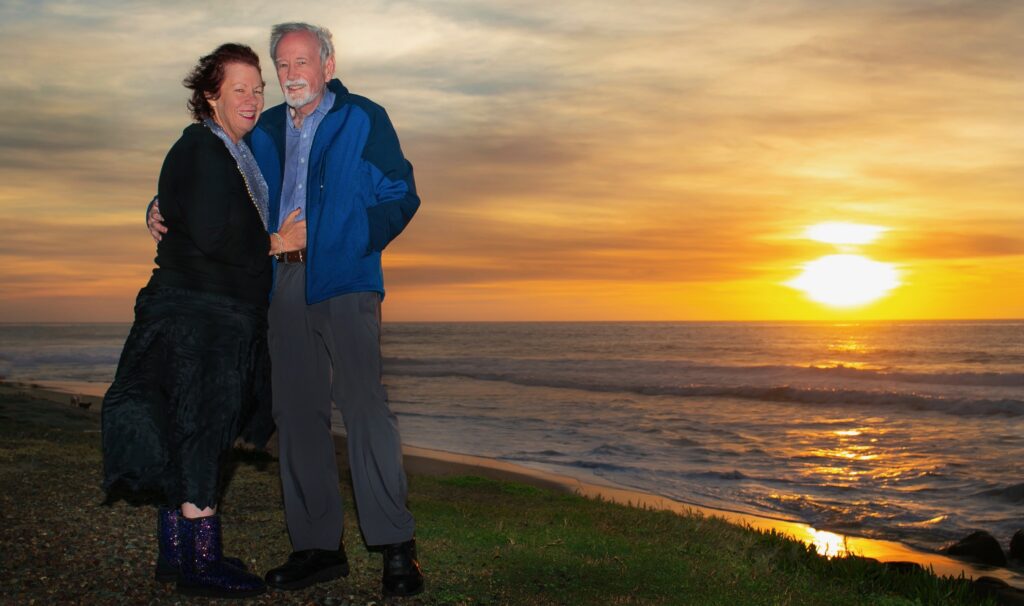 It began when the first people arrived for the wedding! Lisa Schwaber from Virginia, Vinka Clement from New Zealand and James Terry Burns from Flagstaff. Linda Ragsdale came from Nashville. Linda, Lisa, Vinka & I were Mumbai survivors and close friends. James is Jimmy's son! And then there were more who came from afar! My girlfriend from college, Eloise Temple, came from Pawley's Island South Carolina, Jimmy's sister, Theresa and her husband Randy McMaster, came from Baton Rouge Louisiana. My son Josh and his wife Cherize Ramirez came in for 2 weeks from Seattle Washington and helped us with the wedding. Annie Seiver, my niece, came from Spain and my uncles, Hiram and Evan Sturm, came from Atlanta, Georgia and Knoxville, Tennessee and my uncle Mel, who couldn't travel, was there in spirit! My cousin Debi Robin came from Nashville to represent my Mom's family. And there were many more!
And, of course, my two great friends who helped me produce the wedding: Joy Jacot from Palm Springs and Sheri Broussard from San Francisco.
The Rehearsal Dinner
On Saturday, we held a rehearsal dinner. No rehearsal, but lots of fun! We asked everyone to share about their relationship with us! It became a love fest!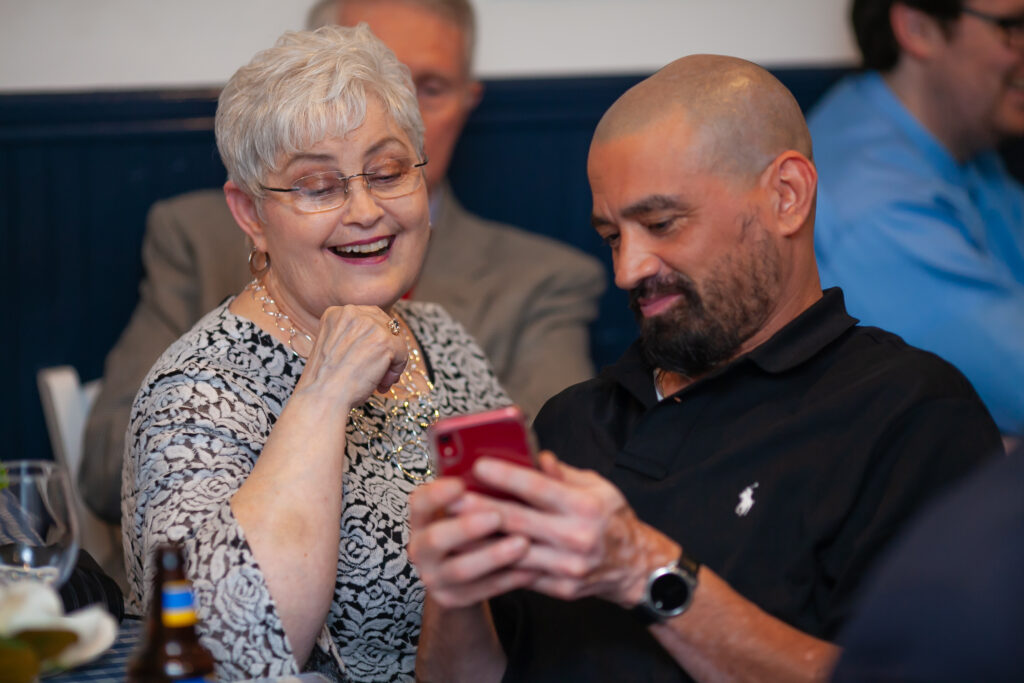 THE WEDDING!
Then came our wedding day, 12/8/19.
It was an incredible day. We started with breakfast for the out of town guests at our Sky Boutique Hotel. Paul & Debbie Alsing, my friend since sophomore year in college was there. We visited and then Peggy Thompson, who came from Las Vegas, brought out her guitar and we all sang!
Then Joy went off to the venue, Peggy took David Pomeranz, my long time friend and phenomenal entertainer, over to the venue to rehearse. The rest of us came along and helped out. I had my hair and makeup done by Randa and Mario (Me, makeup? YES!). And then we were ready!
The wedding was beautiful. I heard that lots of people cried at our happiness. It was a Jewish wedding. It began with a chuppah, a temporary shelter, carried in by our family and friends: James Burns and Nichole Harvey, Jim's kids, my sister Susie and her daughter Annie, my son Josh and his wife Cherize and two of my best friends, Lynn Ludlam and Marcia Britvan. My dad and my son walked me down the aisle. Peggy Thompson did a song my dearest friend Anselm Rothschild, who died in 2000 about love "I Have Found You/I Have Been Lucky" and David Pomeranz did "On This Day".
My rabbis, Rabbi Stan Levy and Rabbi Laura Owens, created a wedding filled with joy. They read our ketoubah, we circled each other 7 times, 3 of our friends, Rev Jay Willick, Rev Angie McCartney and our doctor, Mark Hyman, gave us special blessings, we committed our lives to each other, stomped on 2 glasses and had a great kiss!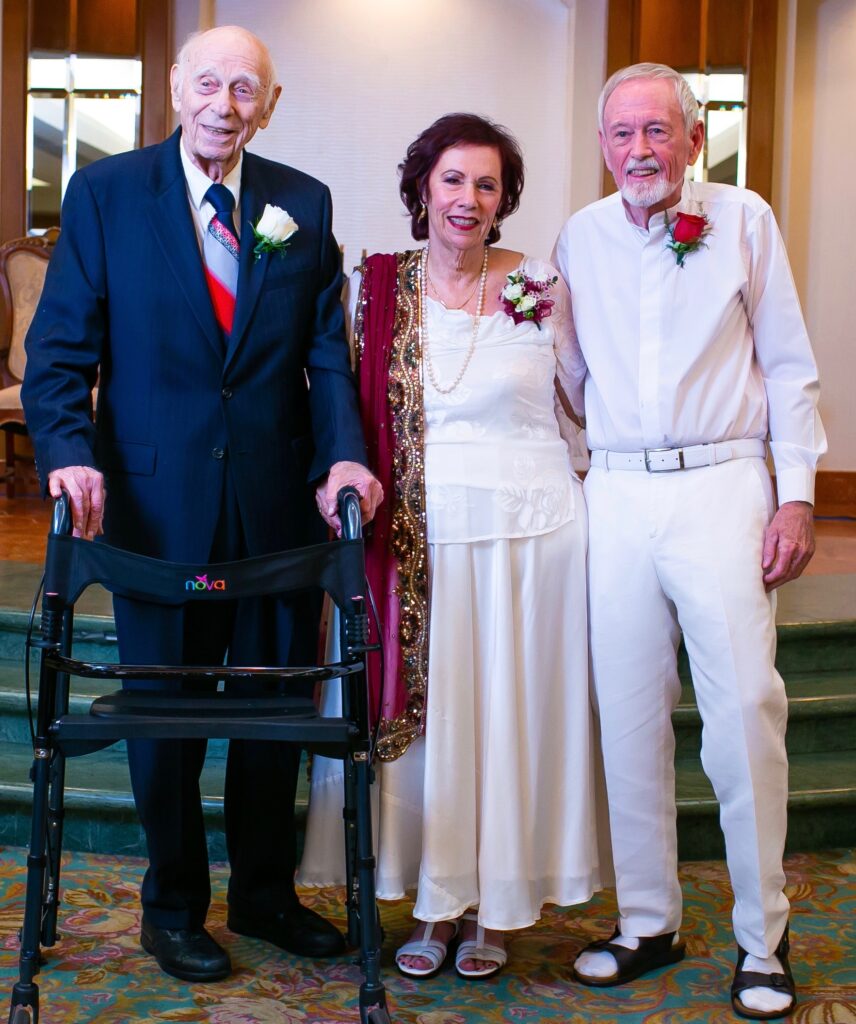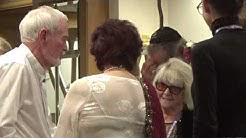 Come take a photo!
At the reception we asked people to come and take a photo with us. That was very special for us because there is never enough time to get to walk around and be with people. Our only regret! Choose "The Photo Wall" above to see all of our wonderful friends who came!
Then there was the great meal! The Olympic Collection outdid themselves on our food. It was Persian with salads, 3 kinds of fantastic rice, chicken and salmon and my favorite, Fesenjen!
The toasts!
And toasts! Here is my dad giving an old family toast!
The Concert
And then, the concert: I've had big parties for my birthday at 50, 60 and 63 and all had a great concert! And always with David Pomeranz. I told him I could not do it without him. So he came, all the way from Clearwater Florida! For 24 hours of bliss for me! So, David sang my favorites, then Stefani Valadez, my dear friend for the last 20 years, sang with her trio of fantastic performers, Christo Pellani on percussion, Leo Chelyapov on flute and saxophone and Jeff Breeh on bass. Then Stephen Fiske and Marc Bachrach each performed. Then Peggy Thompson played and Debbie Pearl played, with Mike Lang accompanying her.
The Sing-A-Long
And then, the sing-a-long! I got up on the stage and we sang songs of the past and finished with "It's In Everyone Of Us" a song that many of us have sung for the last 40 years together. A fitting end to a wonderful night!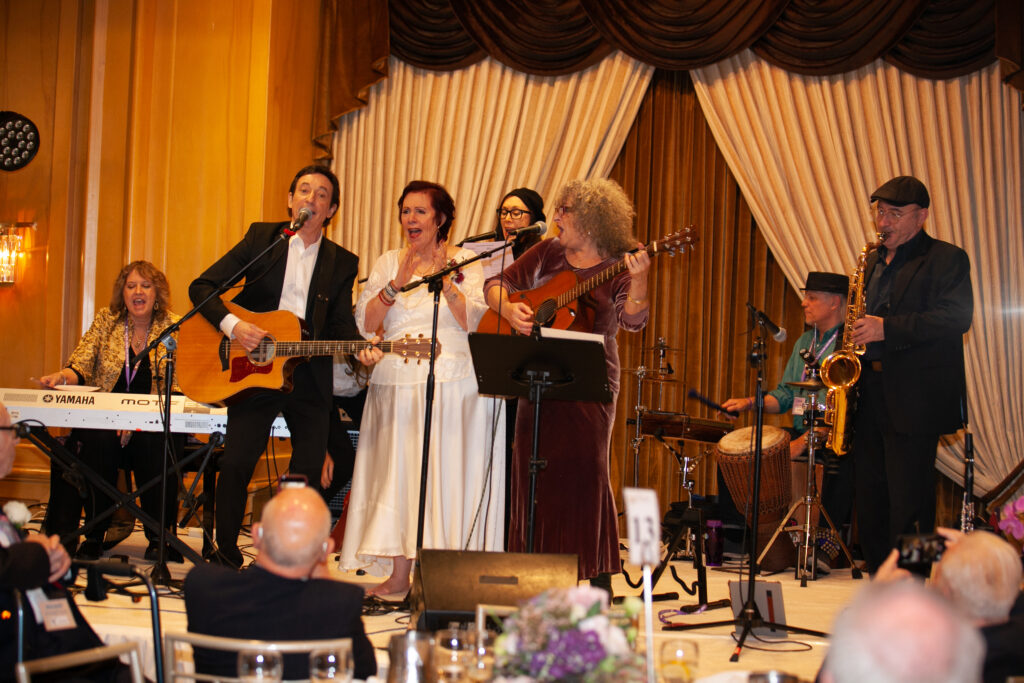 To those who were with us, we thank you!
To those who were home ill or didn't make it, we are so sorry!
And to those who wanted to be with us, but just couldn't make it for lots of reasons, we hope your affairs were fabulous and we missed you!
And, if you would like to make a donation to one of our charities, we would appreciate it! Just send a check to B'nai Horin, 10810 Ayres Ave, Los Angeles CA 90064 and say Peggi/Jimmy's wedding. If you go back and look at the "And the charities we adore!" picture at the end of the wedding, you can choose who you want it sent to. We are thrilled that our families and friends gave over $7,000 to our charities.