MUMBAI – 26/11 Remembered
The purpose of our visit to Mumbai was to attend our 26/11 Memorial Event and the Indian launch of One Life Alliance (OLA).  Kia Scherr, the widow of Alan and mother of 13 year old Naomi, was the producer and she had enlisted Shibani Satchdeva, from the family who produced our events two years ago and a professional fundraiser, to co-produce with her.  Kia was a wife and mother, a meditator, who lived a quiet ashram-based lifestyle before her shocking loss pushed her into the limelight.
She had no experience with producing media events.  I've had the privilege of working with Kia in LA over the last two years and I so admire her willingness to educate herself and become a world figure for peace and compassion.
Upon our arrival in Mumbai it was clear to me that the production of the 26/11 event was far from ready.  Shibani and Kia called the 10 am meeting, showing their vision and plans and asked for help.  We jumped in.  I became the third co-producer and the facilitator between the other two.  It reminded me of LAWHE in 1980 and the tensions and fears that come from putting your career and life on the line while creating a new and unknown style of event.  So a microcosm of the conflicts of the world come up in the space and have to be processed through.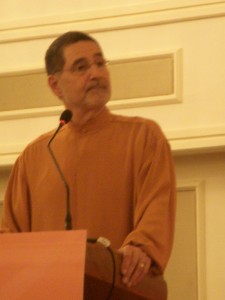 For me, it was a privilege to serve.  I worked on the message to be presented and the power point presentation.  Linda had the concept to make a film to show at the event to introduce the returning survivors.  Shibani came up with the theme – I honor the sacredness of life by . . .  Hamel, from Odyssey Films, a New York faith-based media company, who was videoing the entire process and events of 26/11, agreed to shoot and edit the interviews and I took responsibility for getting it done, i.e., I became the producer and director.  With 48 hours til the event began!  Bonnie Sullivan and I together took on the management of the seating of the honored guests and the event co-ordination.
You can begin to see why I haven't written anything for the web site!  We worked around the clock!
Miraculously, the event worked beautifully.  400 people attended.  It began with High Tea. We had 2 higher education speakers, 5 religious leaders (2 Hindu Gurus, 1 Muslin Iman, 1 Catholic Priest, 1 Jewish Leader) a local high school choir (singing It's A Wonderful Life and We Are The World) and MC and Kia as speakers.
Linda Ragsdale, one of our original group who was seriously wounded by the terrorists, presented her art project, Peace Dragon, project as an example project and Kia and MC led the guests in taking the OLA Pledge to honor the sacredness of life for the next 30 days and then the kids choir sang the National Anthem of India.  2 moving and powerful hours and the event was complete.  A big success.  You can see pictures and read about it on this internet news site.  Keep clicking next for about 4 sections.  The writer could have been part of our group!  She totally got us.
Now we are relaxing, hanging with our friends, shopping and enjoying the hotel and the city.  Shamim drove me to the Ayushakti Ayurevedic Health Clinic on Saturday (which I had visited 3 times in 2008) for 5 fabulous treatments on Saturday.  I brought John Slicker, another of the survivors, with me and we really enjoyed getting to know each other deeper.   After a wonderful birthday dinner with Lisa, Carole and Bonnie at the Tiffen (now known as the Fenix) restaurant at the Oberoi, we had our final session with MC.  We celebrated the successes of the event, laughed and told stories, had birthday cake (a gift from the hotel to me) and hung out, then said our good-byes.
On Sunday, Master Charles, Kia and Helen, Carole and Bonnie left to go to Benares and visit an ashram there and  Lisa and I visited the merchants in the hotel mall from whom we had bought in 2008 and who felt so connected to us.  They came to our event.  So much hugging and love between us all.  We ended the evening with a dinner with Shibani and her brother Gottam, who had produced the 2008 events with MC, and Miriam, Phy, Linda, Lisa and me.
Today Phy, Linda, Lisa and I are having breakfast at the Fenix, then Lisa and I are meeting our friend Gayatri for lunch at her club and doing some serious shopping!  Tomorrow we go to Ayushakti again, then take Shamim to dinner and then go to the airport to fly home!
Written by Peggi, Posted on Tuesday, 11.30.10 at 8:15 am, Mumbai time.  Heading home tonight.  I will post one more blog, after I get home on December 1st!
COME CELEBRATE WITH ME!
I'm having an Open House, Birthday Celebration and Trip Sharing Evening on Saturday night, starting at  7pm.  I would love to have you join me!  I'm serving Indian Food and I'll share the video's from the 26/11 event, as well as stories of my travels.
Please RSVP if you are coming and I'll give you parking instructions (Park at the Mall and walk over).  I do need to know if you are coming, so that I can order enough food!
Love to all!
Peggi