Our Jewelle, the jewel of our lives, has passed away . . .
Jewelle Etta Sturm
5.27.81 – 4.30.10
MEMORIAL EVENT HANDOUT: 7.11.2010
Jewelle was born in Tarzana and grew up in the Valley and West LA. She also lived in Hawaii with her mother and stepfather. Upon her return from Hawaii, at age 11, she happily moved in with her Aunt Peggi and cousin Josh. She adored having a little brother to love and teach everything. She took credit for giving him a love of video games. She began to study for her Bat Mitzvah with Rabbi Stan Levy and her extended family all celebrated her achievement on June 11, 1994. She graduated from Steven Weiss Middle School and Birmingham High School. She got her AA Degree from Saddleback College in Mission Viejo.
At the age of 21 she married her great love, Lars Lee, and together they went to Hawaii to rescue her mother and the three siblings she had never met. It was her most heroic deed. She and Lars moved her newly reunited family to Eureka California for two years and then on to Central Point Oregon, where they helped parent Annie, Jeremy and Robert and established a life for themselves. At 27 she separated from Lars and moved to Los Angeles, where she searched for herself. She spent most of the last year of her life living with Poppa in the beloved family home that had been her safe haven all her life.
Jewelle was physically beautiful. She tried modeling and acting and had some success as an improv comedian. Jewelle was a man magnet! She loved them all and they all came to help her with each and everything she needed, especially Michael and Leonard. Jewelle loved dogs. In Central Point she bred and raised 5 litters of Chihuahuas, pit bulls and poodles, for a total of 20 adorable pups. She is pictured here with Goliath. Jewelle studied communications in college and then real estate. She saw herself as a businesswoman. Her first business was making cotton candy. She and the kids made it and sold it in front of their house in Eureka, and then at fairs and local events. Working and earning a living was not her forté. She always knew better than everyone else! She was destined to be the boss! She was filled with grandiose visions, including an indoor ski resort in Malibu and a private University. She loved cooking and food and started to opened a restaurant in Gold Hill with Lars and her uncle Joe Beaz. She especially loved cooking and caring for Poppa.
Jewelle suffered from bi-polar disease. She self-medicated with cocaine and other drugs. She was the life of the party and she couldn't decide what to wear, often paralyzing her. She struggled with alcoholism too. In the end, her drug experiment took her life. Ironically, her father died from a drug overdose too.
If you would like to make a contribution in memory of Jewelle, we request that you help those who helped Jewelle. B'nai Horin (the Jewish Community that Aunt Peggi runs) became Jewelle's spiritual home when Jewelle moved in with Peggi and Josh. Her year of preparation for being Bat Mitzvah'd was a time of tremendous healing and the Bat Mitzvah itself transformed Jewelle from a little girl to a powerful woman. Jewelle was a star at High Holy Days, creating a special room there where the kids gave massages to the adults. B'nai Horin will gratefully accept your tax deductible donation. Mail checks to B'nai Horin, 10810 Ayres Ave, Los Angeles, CA 90064. Or to use a credit card, call Peggi Sturm, Executive Director, at 310.470.9390.
Leonard Buschel was her "best friend" during the last year of her life. He tried to guide her into sobriety. She lived with him, he took her to meetings and was there for her. When she moved to Poppa's, he often took her to the farmer's market and then came over and made dinner with Jewelle for Poppa. The week before she died, he found a live-in rehab center for Jewelle in Colorado and urged her to go. She agreed to think about it. Leonard would like to inspire others to recover from alcoholism in her memory. He created a memorial scholarship fund. You are invited to participate with him by going to his web site, www.writersintreatment.org/ and click on the contribute now button, or call him at 818.762.0461.
We appreciate your joining with us to celebrate Jewelle's life. Your sharing will continue to inspire us all. We know you loved her deeply, as we did, and we hope you'll make a difference in the world with your life.
The Sturm/Seivers
Poppa, Susie, Peggi and Lou
Josh, Annie, Jeremy & Robert
SHARINGS FROM PEGGI
I'm so sad to share with all of you, our friends and family, that Jewelle Sturm passed away on Friday, April 30th around 5:30 am from an accidental overdose. She was 27 days short of her 29th birthday.
Jewelle was many things to many people. For me, Peggi, she was my "daughter" as well as my niece. I was there when she was born, I looked out for her as a child and I took her into my home as my daughter when she was 11. I put her in training for her Bat Mitzvah and was so proud of her accomplishment with that. When she was 14 she moved to my parents' home. I was proud to give her godparents to help guide her, Lynn Pentz as godmother and Don Krim and David Russell as godfathers.
Jewelle was funny and wild. She could not be contained. My parental strictness was too large a shift from her mom's easy going and fun loving parenting. Jewelle worshipped her Grandma and Grandpa and always felt safe at their home. We had many discussions about how important it was to keep the family home in our family. For most of the last year of Jewelle's life she lived in that home happily. She loved cooking dinner for Grandpa and "keeping house" for him. She also expressed her love for me profusely and repeatedly during that year. We tried to be close and did many things together.
At the age of 21 Jewelle married her boyfriend Lars Lee and spent her last dime to fly with him to Hawaii to rescue her mother and 3 siblings. Jewelle was haunted by those kids and her fears for them. At age 10 Jewelle had been molested by her step-father, whom she hated. They then disappeared to Hawaii (Susie, Mark and Jewelle). A few months later, Susie and Jewelle escaped from Mark and flew back to LA and arrived on my doorstep at 7 am with nothing more than the clothes on their backs. That was Jewelle's doing. A couple of months later, Mark came for Susie and she returned to Hawaii with him. Jewelle became my daughter and stayed with me. During the next 7 years we occasionally heard from Susie that she was okay and she'd had another baby. She had 3 in 3 1/2 years – Annie, Jeremy and Robert. Jewelle was so worried about them that at 21 she flew to Hawaii to "rescue" them. She found them within hours of landing in Honolulu and took them to the airport, where she called Dad and asked him to pay for the airplane tickets home for everyone. This was September of 2004 and her greatest achievement.
After a few weeks of family reunion, they all moved to Eureka California. A couple of years later, Jewelle was studying real estate and she found an affordable home for them in Central Point (near Medford) Oregon. The Sturm Family Trust bought the home and they moved. Jewelle loved her sibilings and when her Mom had legal issues and spent half a year in Los Angeles, Jewelle (and Lars) took over as parents to the kids. She was so proud of her parenting.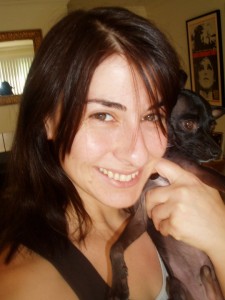 A year and a half ago, Jewelle and Lars split and Jewelle moved back to LA.
Jewelle loved animals. She bred her Chihuahuas and raised many dogs. In LA she had her two dogs with her, Goliath and Boo. Boo, the mother dog, was killed by coyotes in Dad's back yard a couple of months ago. Goliath was always in Jewelle's arms. Here she is with Goliath, just a few weeks before she passed.
Jewelle's close friend Leonard Buschel made this tribute video to Jewelle yesterday. It shows her many sides and her wonderful energies. It concludes with recent photos of Jewelle, some she took herself (of her and Dad) collaged to "Corner of the Sky" from Pippin. Jewelle was in "Pippin" in high school. "Corner of the Sky" was the theme song of one of my LAWHE friends who also died young (Keith Coleman) and has always been one of my favorite songs. It made me sob. I hope you enjoy it.
Jewelle was in pain much of her life and she "self-medicated" so that she could live in this world. She is no longer in pain, for which we are thankful, but we are so sad that she is not in this world with us any more. We loved her and we miss her.
Thanks for listening and we hope we see many of you at the Celebration and we know that many of you will be with us "in spirit".
In Sadness and In Love,
Peggi Sturm 310.470.9390
Howard Sturm
818.783.3450
Susie Seiver
541.665.0048