AGRA – Day 2 & Return to DELHI
Today was our cranky day! We think everyone is entitled to at least one cranky day.  So, we'll get it off our chests right now!
Actually, it started after midnight, when we arrived back at our hotel in Delhi.  The room they gave us was completely unacceptable.  So they took us to another room.  It had just been remodeled and looked lovely.  BUT, when Lisa walked barefoot to her bed she discovered that the carpet was soaking wet. Too tired to do anything about it, we went to bed.   When we woke up this morning, the room looked and felt like a cold and steamy sauna!  The humidity that the shower leak caused to the carpet was the source.  We started to envision mold and called the front desk.  Off we went to room #3! At last, an acceptable room.  However, they are busy remodeling other rooms and the construction noise has been difficult to bear all day.  What were we doing in the room all day, you ask?  We're going to tell you right now!
So, we flashback in time to Thursday late afternoon. Hot, tired and exhausted after our Taj Mahal visit, we went to a delightful air conditioned restaurant for another great meal.  We have a habit of ordering a couple of dishes and sharing, plus some great bread as well (Nan).  Lisa is a real authority on India food, and Peggi loves to eat it!  So, each meal is an adventure.  The food was great here, but the mango lassi won the prize for best of trip.  So refreshing when one is so hot.
Then off to a marble factory for a demonstration on how the Taj Mahal marble was inlaid.  Then, of course, the mandatory shopping.  Gorgeous marble tables, shipped home for free, but the tables run into the thousands of dollars.  Peggi had a choice, buy a table, or pay her property taxes.  It was a tough call!  Marble plates, jewelry boxes and a lamp Peggi loved out of mother-of-pearl inlaid on marble (looks purple, but when lit it turns red). Didn't get the lamp but Peggi bought a few small items.  The salesman kept offering her great prices if instead of buying 6, she would buy 12 or 20. She escaped with only her 6 gift items.  She was so proud of herself!
One of the best parts for Peggi was the closeness of each of these spots to each other.  No drive in Agra was more than 15 minutes, as opposed to Jaipur, where every trip was an hour thru horrendous traffic. Back to the hotel we went to rest and work on the blog.  Peggi and Lisa collaborated until Lisa drifted away into sleep.  It was only 5:30 pm, but we were both exhausted. Peggi called it a night at 9 pm.
All was well until 12:30 am when Lisa awoke and spent the next six hours experiencing various forms of intestinal distress (i.e., Indian version of Moctezuma's revenge.).  Peggi slept right through it all.  Which begs the question:  WHY?  Since we both shared every meal and were in the same place all the time, why did Lisa get it and not Peggi?  Peggi's not complaining, mind you. Another great mystery, unsolved.
In the morning, Lisa was just plain miserable and we called our tour company representative, Mr Vikal.  He spoke with the hotel and soon a doctor was at our door. And we became VIP Guests.  The doctor prescribed 5 medicines and bed rest.  We happily complied. We were scheduled to go to 2 more mausoleums and the Agra Fort/Palace complex.  Instead, the hotel graciously extended our stay thru the afternoon.
The Trident Agra is part of the Oberoi Group chain (2 years ago we lived in the Oberoi Nariman Point in Mumbai for two weeks and LOVED it! and they couldn't do enough to take care of us.  They kept checking in on us, delivered flowers and offered everything except shares in the hotel.  The General Manager of the hotel came to check on us and visit with us, and then sat with us in the restaurant while we had a lite bite.  He asked about the rest of our trip and said he would call the GM of our hotel in Hyderabad (he grew up there!) and make sure we would be well treated there.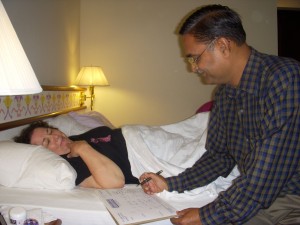 The late afternoon debate was what should we do next.  We were supposed to come back to Delhi on the super-fast air-conditioned train (only 2 hours). But if we stayed an extra night in Agra, the train was sold out and we would have to return to Delhi by car –  a 4 1/2 hour drive  with our wonderful Raj, with heavy rains predicted for the late afternoon.
Peggi's response to this option was NEVER!  NO WAY!  ABSOLUTELY NOT! Lisa concurred that the train was the optimal choice and declared that she would be well enough.
So we prayed for a speedy recovery, the Trident extended our room stay til 7 pm and Lisa slept the whole afternoon but got up to go to the train.  Once we got settled on the train, Lisa went immediately to sleep and only woke up for the arrival. She also slept all night after we settled in at the Delhi hotel!  You'd think she'd be well rested by now!
You might be thinking that the gifts will be slim after all this added expense, but you'd be wrong. The Trident did NOT charge us any additional fees. The doctor's charge was 600 rupies and the medicines cost $200, delivered to our room.  By the way, 24 hours of wireless internet service was $800 rupies.  In dollars, that's a little less than $20!  A bargain at any price!
So, that is why we are spending today inside our Delhi hotel room.  Relaxing and preparing for the next leg of our trip:  Hyderabad and the micro-finance site visit.